Architects of the West Kingdom Insert
Note:  Insert designed for game with external box dimensions of 23.0 x 23.0 x 6.9cm.
Insert compatible with Architects of the West Kingdom®, including the Age of Artisans® expansion and the Architects 2018 KS Promos pack. The design provides both efficient storage and improved game play. Many of the trays can be utilized during the game, and they greatly aid set-up and clear-away times. The rules and boards act as a lid on top of the trays.
Below you can see the bottom layer of trays, and also an image showing how the player boards are added to the box. There is space for up to 13 player boards.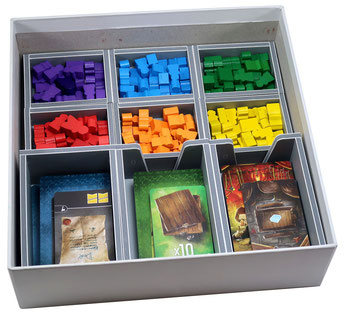 ---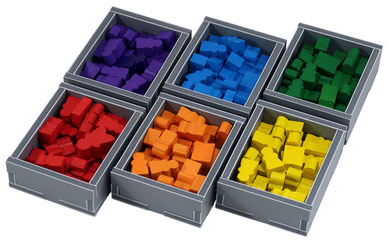 These are the trays for the player pieces, one for each of the six colors.  Each tray has space for the player markers, and the worker and artisan meeples.
---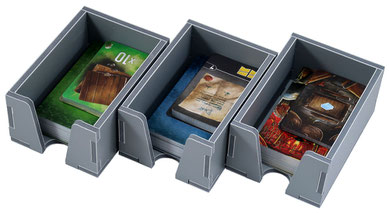 There are three trays for the game cards. The smaller game cards are placed on top of the larger cards as shown, and removed to add to the board when starting a game. There is space for all cards to be sleeved.
---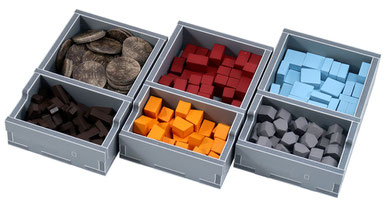 These are the three resource trays.
---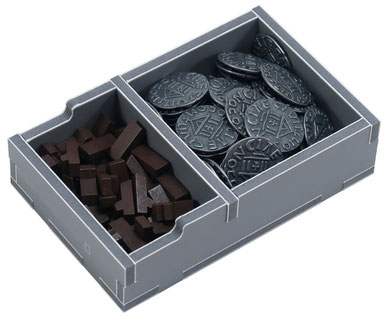 The first resource tray works equally well with either coin tokens or with the optional metal coins.
---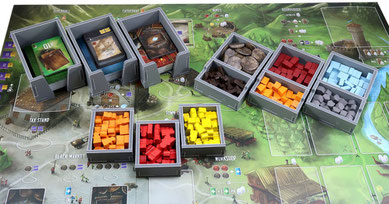 As mentioned above many of the trays can be used during the game to organize the components and make access by all players easy.
---
When clearing the game away and packing the box, the expansion player boards go on top of the lower trays. On top place the rule books, followed by the game board. Lastly place the guildhall board, score pad and player aids as shown.
---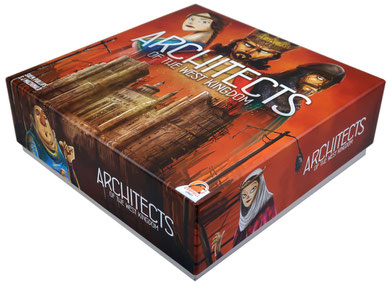 It should be noted that this is a very tightly packed box, and in order to ensure the trays have sufficient space for the components and sleeved cards, the box lid is lifted up 9 mm when closed. This lid lift is with a full score pad, but with the score pad removed the lift is reduced to 6 mm.