Gloomhaven Jaws of the Lion Insert
Note:  Insert designed for game with external box dimensions of  23.0 x 29.2 x 10.2cm.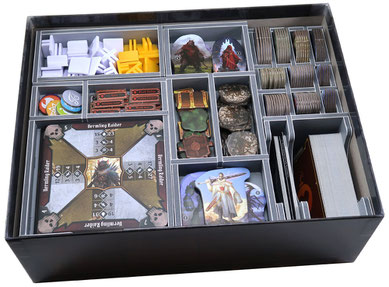 Insert compatible with Gloomhaven Jaws of the Lion. The design provides both efficient storage and improved game play. Many of the trays can be utilized during the game, and they greatly aid set-up and clear-away times. The insert is arranged in three layers.
Note that the miniatures remain in their tuck boxes. Also note that while the character tuck boxes are still used to store your characters cards and other player pieces, there is also space in the card trays for cards not currently in use. See below for more info.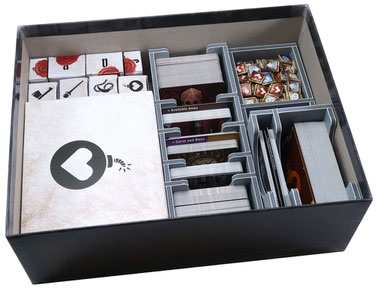 ---
These are the trays from the insert. All component types are split by type organizing all the game components. The medium and small monster standees are placed vertically in one tray. The larger monster standees go in a separate tray with the terrain tiles.
---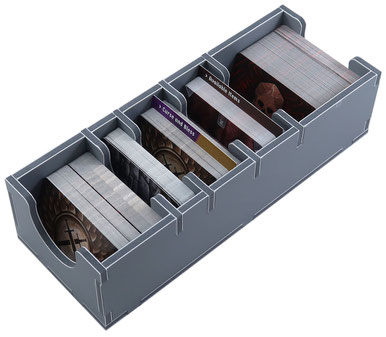 Both the card trays are designed for sleeved cards. Each of them also includes one large slot for storing character cards which are not currently in use. This will allow you to have more space in the character tuck boxes for components and for sleeved cards. Each of the card trays also have space to use the three card dividers that come with the game.
---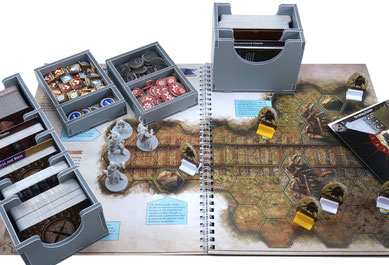 As mentioned above many of the trays can be used during the game to organize the components and make access by all players easy.
---
When packing the box first place the city map board on top of the trays. This is followed by the supplementary scenario book and dials. Next place the scenario book with the ring-binder on the opposite side to the supplementary scenario book as shown, with the space between the ring-binders filled by the dials. Lastly place the rule books and element board on top of everything else. Once fully loaded the box is filled to the top, allowing for vertical storage.