Root Insert
Note:  Insert designed for game with external box dimensions of  22.6 x 29.0 x 7.4cm. Please take particular care as the insert is not compatible with the French edition from Matagot, which is 36.8 x 29.8 x 10.8 cm box size.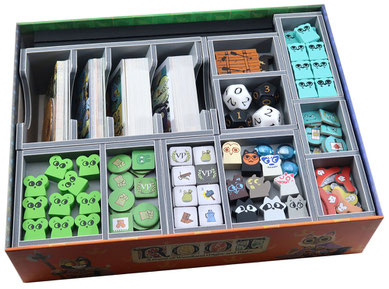 Insert compatible with Root®, and The Riverfolk®, The Underworld®, The Exiles & Partisans Deck®, The Vagabond Pack® and Resin Clearing Markers®.
The design provides both efficient storage and improved game play. Many of the trays can be utilized during the game, and they greatly aid set-up and clear-away times. The insert is arranged in three layers.
Note that this insert is designed, together with the rule books, to fill the base game box. The boards and player boards need to be stored separately in one of the expansion boxes. Please see below for more details. Also note that the insert works with either a single wooden card stand, or with four stands.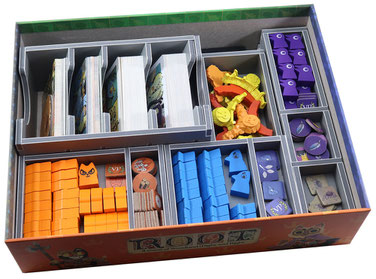 ---
These are the faction and game component trays. Each faction receives it's own tray, with slots to divide and organize it's pieces. There is a dedicated tray for the larger resin clearing markers.
---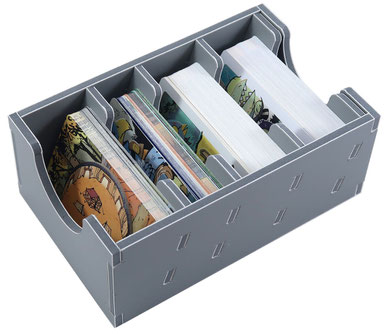 The large card tray has no base and needs to remain in the game box. The tray is sized to fit sleeved cards. The four slots allow you to store separately the two shared decks, the faction overview cards and the vagabond deck.
---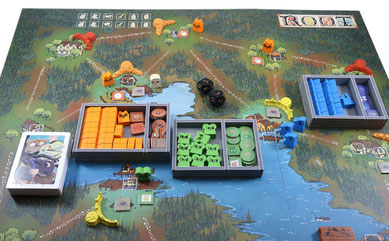 As mentioned above many of the trays can be used during the game to organize the components and make access by all players easy.
---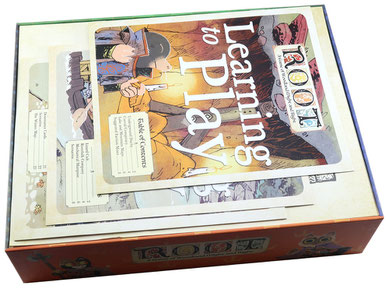 When packing the box place all of the insert trays in the box as shown in the instructions. Then add the rule books from the game and expansions. This fully fills the box and allows for vertical storage of the game.
---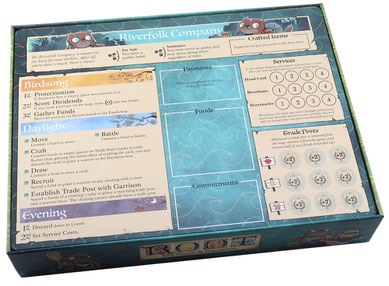 As mentioned above the game boards and various player boards need to be stored in one of the two large expansion boxes. The full collection of boards from the game and expansions listed will fill one of the expansion boxes as shown here.