Kwakzalvers van Kakelenburg Insert
Note:  Insert designed for game with external box dimensions of  29.8 x 29.8 x 7.3 cm.
Insert compatible with Kwakzalvers van Kakelenburg, including De Kruidenheksen and De Alchemisten expansions. The design provides both efficient storage and improved game play. Many of the trays can be utilised during the game, and they greatly aid set-up and clear-away times.
The trays are arranged in two layers. Note that the player bags are added on top of the large tiles at the top of the insert, see below for more details.
---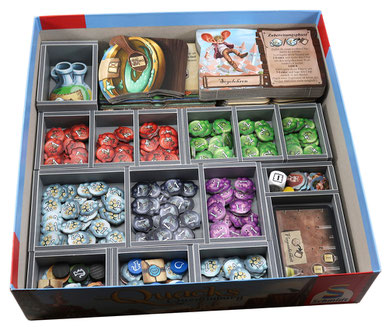 This is the bottom layer of trays. Note how the ingredient books, herb witches, overflow boards, and patient chart tiles are stacked at the top end of the box. The player flasks are placed in the tray at the top left of the insert.
---
The insert includes trays for all of the game components, with separate slots for each of the denominations of ingredient. The card trays have space for all cards to be sleeved with quality sleeves. There is a separate player tray for each player colour including their starting ingredients.
---
The insert works equally well with the Kwakzalvers van Kakelenburg BoardGameGeek GeekUp Bits sets.
---
When packing the box, first place the rule books on top of the trays to cover them and then the rolled up player bags at the top of the box on top of the large tile stacks. Then place the scoring track board, followed by the player boards. Lastly place the boards from The Alchemists® expansion on top as shown. This fully fills the box and allows for vertical storage of the game.