Ark Nova Insert
Note:  Insert designed for game with external box dimensions of  37.0 x 30.0 x 7.0 cm.
Insert compatible with Ark Nova®. The design provides both efficient storage and improved game play. Many of the trays can be utilized during the game, and they greatly aid set-up and clear-away times.
The trays are arranged in up to two layers. The card trays both have space for sleeved cards, and we have provided additional storage space for many more cards should they be released in the future.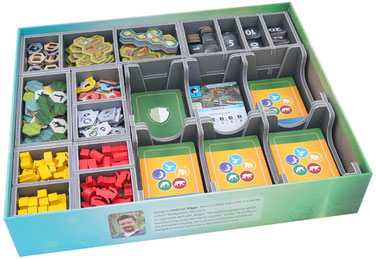 ---
The insert includes trays for storing and organizing all the game components. Each player has their own player colour tray, and all the zoo enclosure tiles are separated by size.
---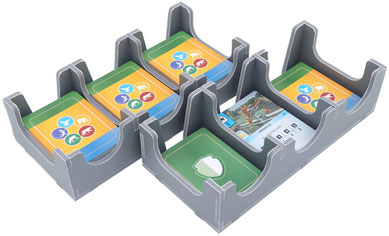 As mentioned above the two card trays fit sleeved cards. One tray can be removed from the box and placed at one end of the game board during game play to give easy access to the zoo card decks. These trays are raised at one end to hold the game board in place during storage.
---
When packing the box, first place the main game board on top fo the trays, followed by the association and solo play boards as shown. Lastly place the player mats and rule books on top. This fully fills the box and allows for vertical storage of the game.