Scythe Insert
Note:  Insert designed for game with external box dimensions of 37.0 x 30.0 x 10.2 cm.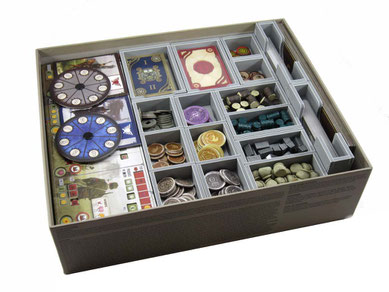 Insert compatible with Scythe®, and the Invaders from Afar® expansion.The design provides both efficient storage and improved game play. Many of the trays can be utilized during the game, and they greatly aid set-up and clear-away times. The rules act as a lid on top of the trays.
Here you can see the top layer of trays. The large player boards and dials are on the left. In the middle are the trays for the cards, coins, and resource tokens. There is sufficient storage space for the realistic resource tokens, the metal coins, and also for seven combat dials should you have them.
---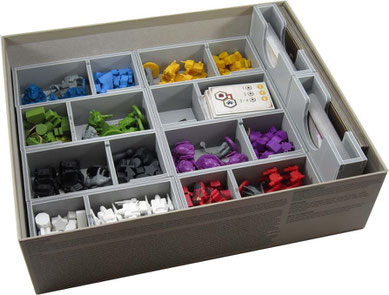 With the top layer removed you can see the player piece trays underneath, one for each player faction. On the right are two tall trays for vertical storage of the large tarot sized cards.
---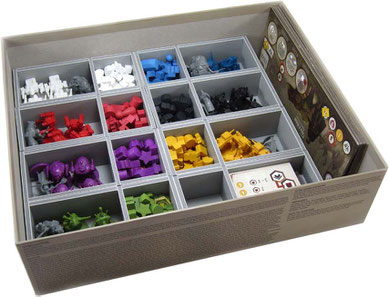 With the two tall tarot card trays removed you can see the remaining player boards standing vertically against the side of the box.
---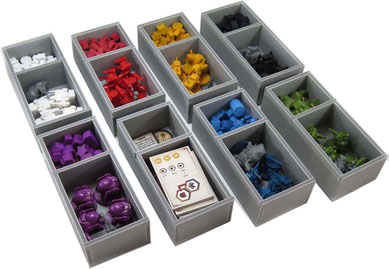 There are seven player trays, with separate slots for the miniatures and the player tokens. The eighth tray is for the combat cards and structure bonus tiles in one slot and the other tokens in the other slot. The combat cards can all be sleeved.
---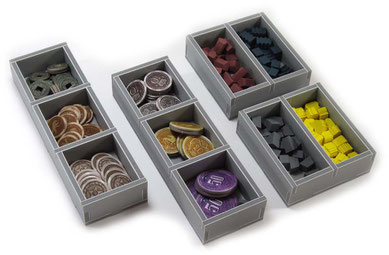 The coin slots are split to have separate slots for each size of coin. The two resource trays separate each of the four resource types.
---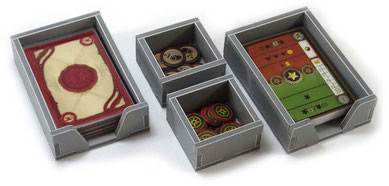 The remaining top layer trays are for the medium sized cards,  the encounter and multiplier tokens. There is space for all cards to be sleeved.
---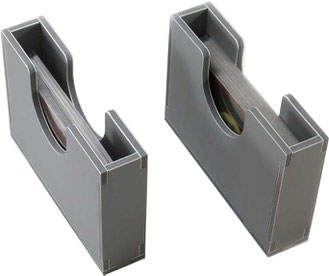 The two tarot sized card trays have space to separate the encounter and factory cards. Again there is room for all the cards to be sleeved with quality sleeves.
---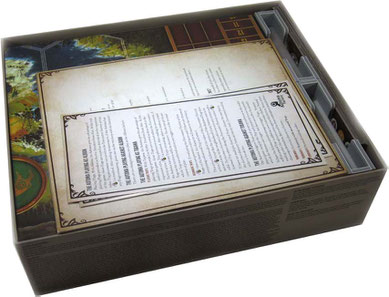 The two tarot sized card trays height is designed to reach the top of the box. This leaves a carefully measured space for the board and the rulebooks.
---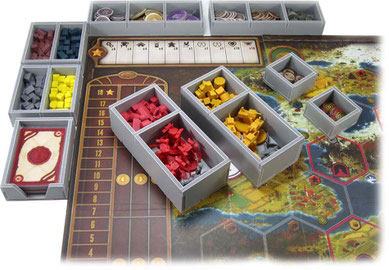 All the trays can all be used in game to help organize components during the game, as well as speeding up setup and clear away times.
---
The player trays allow for the additional combat dials to be stored. There is space on top of the player boards for three dials, and an additional four dials can now be stored underneath slotting into the tops of the player piece trays.
---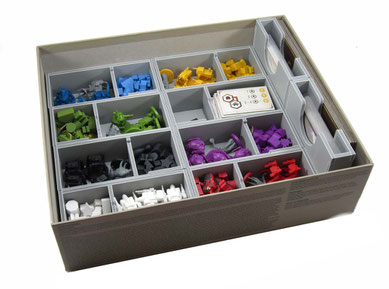 If you have just the two combat dials that come with the original game, then you need to off set the player piece trays as shown here. This provides support for the trays that will go on top.
---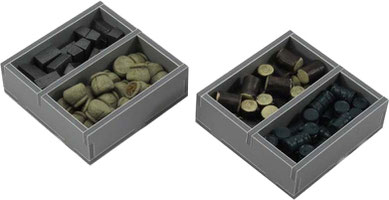 Here you can see how the resource trays function with the realistic resource tokens.
---