Caverna Insert
Note:  Insert designed for game with external box dimensions of  22.9 x 30.5 x 10.4 cm..
This insert is designed to be compatible with Caverna The Cave Farmers® and the The Forgotten Folk® expansion. The design provides both efficient storage and improved game play. Many of the trays can be utilised during the game, and they greatly aid set-up and clear-away times. The boards and player boards act as a lid on top of the trays.
The product also comes with two separate trays that can be added to The Forgotten Folk® expansion, for info see below. All cards can be sleeved.
---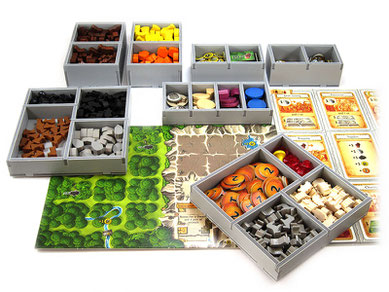 Insert features:
Two player pieces trays
Two trays for room tiles, with vertical storage
Four trays for resources and cards
Two trays for food and weapon tokens
Two trays for The Forgotten Folk expansion as shown below
---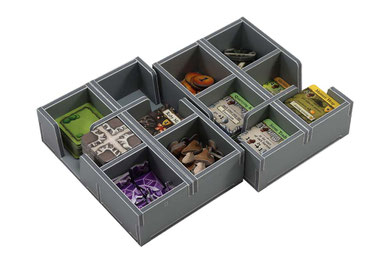 These are the additional two trays that come with the insert and can be added to The Forgotten Folk expansion box. These trays have eight room tile slots in total, storing expansion's rooms and have additional space to sort and store all your room tiles. There are also slots for the new tokens. The extra coins can be added to the main box insert coin tray.
The trays work with the Halflings, Adventurers and other promos if you are lucky enough to own them.
---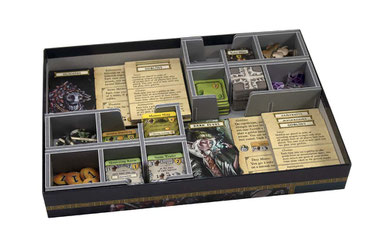 The trays are added to the box as shown here, with the folk boards holding the trays in place. The trays completely fill the box to the top, so it can be stored vertically. The expansion rule book should be added to the main game box.